Sell your boat or sailing equipment
Free ads: A simple text advert which appears on the website, and in Y&Y magazine where possible

Pay just £5: A text-only advert which is guaranteed inclusion in both the website and Y&Y magazine

Pay £15: Add a photo which appears on the website

Pay £25: Your photo in Y&Y magazine too, and a 'featured' spot on 100+ pages throughout the website


J24 Rogers design 1991 GBR4236 for sale
Price:
£14500
Phone:
07795 966305
Alternate phone:
7.3m keelboat. Full insurance survey completed February 2020. Dry sailed, complete with lifter reconditioned 2019. New set Quantum sails 2018. North main 2018. Many other sets in reasonable condition. Mariner 3.3hp outboard. Reconditioned road trailer with new wheels, tyres and bearings. Qualifier for the Worlds 2019. Very good condition
Definitely still for sale on:
19 October 2021
(The owner confirmed the item was still for sale on this date)
Located:
Wimborne
View larger map
(not exact location)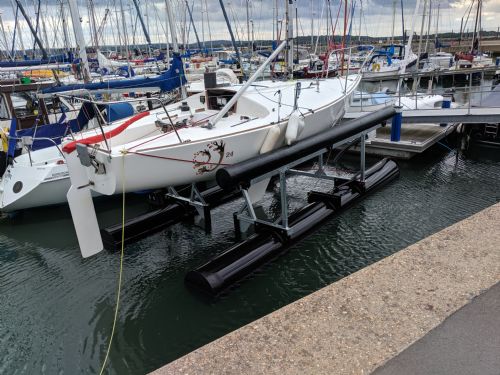 Changing your own adverts
If this is your advert, you may need to log in before you see links to change the details. If you have a password for the Y&Y forum, please log in (see box in top right).
Otherwise please see the email we sent you on 23 September 2021 entitled 'Y&Y classifieds...' for the links you need.
Resend email
Search classified adverts
Magazine appearance
This is an example of how adverts look in the magazine: