moth tuning

Printed From: Yachts and Yachting Online
Category: Dinghy classes
Forum Name: Technique
Forum Discription: 'How to' section for dinghy questions and answers
URL: http://www.yachtsandyachting.com/forum/forum_posts.asp?TID=7569
Printed Date: 08 Aug 20 at 3:56pm
Software Version: Web Wiz Forums 9.665y - http://www.webwizforums.com


Topic: moth tuning
---
Posted By: winging it
Subject: moth tuning
Date Posted: 16 Feb 11 at 7:26pm
---
Does anyone have any advice/knowledge they could pass on about setting up the probably magnum V moth? It has the original Needlespar mast and Claridge boom, and a mainsail with this logo on it: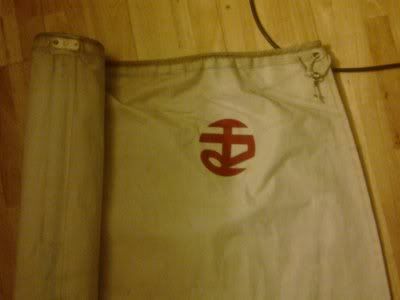 interestingly it also has a smaller moth logo near the clew.

Any tips on how to launch the thing would also be well received.

thanks,

Nessa





-------------
the same, but different...


---
Replies:
---
Posted By: aardvark_issues
Date Posted: 16 Feb 11 at 9:00pm
---
Worth an email to the moth mailing list as there are still a few old time mothies around who can probably help with specific stuff.

General thoughts on new mothing (bearing in mind this in the late 90's and a Magnum 8, your mileage may vary). Find a load of EPP swimming pool noodle floats and stuff them inside the tramps on the wing edges. 3 a side would be nice. This will help give you a bit of leeway when you dip a wing.

don't bother going out if it's light (sub 5 knots) or in over 12-15. life gets hard at these points.

try to get foils in and down before you get in the boat will make it much more stable - perhaps even launch it on its side and start capsized - also start with a bit of kicker on so there is some power to lean on.
Most peoples first goes in Moths ends with them running all over the place trying to keep it upright - try to get a bit of power in the main and lean into it, moving the sheet to keep you upright and moving.

good luck!


-------------
http://www.aardvarkracing.co.uk" rel="nofollow - Home of Rocket Racing
---
Posted By: I luv Wight
Date Posted: 16 Feb 11 at 9:41pm
---
The logo is Richard Hargreaves Sails.

My first moth was a Magnum 3, which is much wider at the stern
Note the cool motorcycling suit


And first time out -

I did a tack to point it back in before capsizing - much skill


And being me... I just had to chop it - to the same transom shape as the Magnum 6 ( the fastest design at the time ) - it greatly improved the performance, less nosedives and faster, but then of course the good guys were on to the Magnum 8, and I remember being lapped at Hythe Euros in 1987 - Just ask Grumpfs - he was race officer!






-------------
" rel="nofollow -
http://www.bloodaxeboats.co.uk" rel="nofollow - http://www.bloodaxeboats.co.uk
Andy P
foiling Int Moth GBR3467
Freedom 21 Codling
---