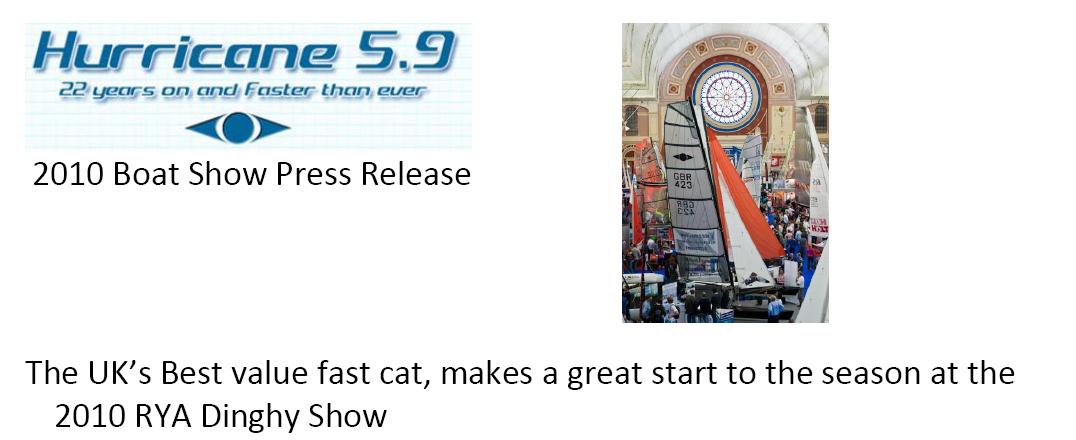 The 2010 Alexandra Palace boat show has been a real success for the Hurricane5.9SX Class. The Hurricane is the UK's best value fast cat and in these recessionary times the 2010 Dinghy show has been the Hurricanes best in years reports the classes most respected sailor Andy Webb.
The Hurricanes newly elected Chairman Nick Moore is a long time Hurricane fan returning to the fleet, "where else could you find better value for money and such fantastic performance?" he enthuses. Nick bought his Hurricane 'Stingray' out of the sin bin at Datchet sailing club for less than the price of an F18 Jib just 6 months ago. The newly refitted 'Stingray' is frequently mistaken for a new boat and is ready to race at Nationals this June.
The class completed its modernisation in the last 10 months with 43 new Square top mainsails sold, in addition to the 90 spinnaker kits sold since 2005. The Hurricane performs within just a few percent of much more expensive modern designs, yet maintains its core values of low cost and virtually nil depreciation.
Class committee members signed up 25 people for locally hosted test sails at the show, with 9 more on the crewing list who want to take part in the Nationals, 4 of whom are currently racing on the RYA Spitfire Youth squad.
The Hurricane Class is famed for its welcome, competitive performance and openness. The 'SX Rig Tuning Guide' was released at the show giving every Hurricane sailor a detailed guide to going fast and is freely available on the classes website.
The boat show saw over 20 of its 50 boat target, sign up for the 2sail and 3 sail SX combined Nationals hosted by the family friendly Thorpe bay yacht club on June 25-27th www.tbyc.org
2010 looks set to be a year to remember for this corner stone of the UK cat sailing scene.
See www.hurricane59.com for detail and to book a test sail!