By the Greek law if the boat is purchased with a professional license, you don't pay VAT. Otherwise you pay 18% on the price of "bill of sail".
That means it depends on the total amount of our agreement . You pay no VAT in any place you sail .
<>
The most important of all
is the condition of the boat we are disgusting
for is in excellent condition . She is a first hand boat and always maintained personally by me .> <>
Best regards
>
Michael Meneklis

<>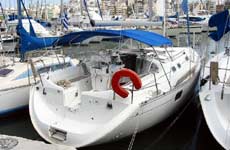 P.S>
I will send you as soon as possible more pictures of the boat .